We've put together an Explore at Home: Children's page with links to activities and information for children and families to enjoy together at home while Covid-19 restrictions may make library visits more difficult.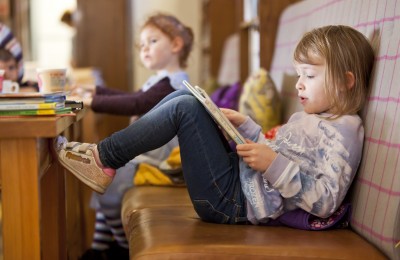 Don't forget to have a look at our catalogue website to find children's books  to borrow.  Did you know we have children's ebooks and e-audiobooks to borrow too?  Download them free to your devices!  See more information about e-books, or browse the children's titles at Overdrive.
Remember to always be safe when using the Internet.
Please be aware that due to Covid-19 restrictions we are not holding in-person activities in libraries from July to December 2020. There are usually lots of things happening at our libraries for you to take part in, like our Chatterbooks children's reading groups and under 5s storytimes.  We also have one-off activities like crafts, coding and author visits – see the What's On section for special events coming soon.
Support with mental health and anxiety: updated April 2020 during the Coronavirus pandemic
This is a challenging time for everyone, including children and young people. There is a range of material available to help them during this time, including these:
The National Autistic Society have some tips for managing uncertainty that would be useful for many families including those with a child with autism https://www.autism.org.uk/services/helplines/coronavirus/resources/tips.aspx
The important thing to remember is that different children will deal with the situation in different ways. There's no 'one size fits all' solution to supporting kids through the pandemic, so make sure you have regular chats to scope how they're coping.