Families & Children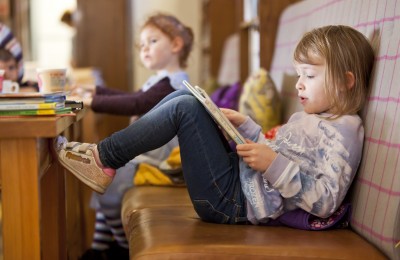 Don't forget to have a look at our catalogue website to find children's books to borrow.  Did you know we have children's ebooks and e-audiobooks to borrow too?  Download them free to your devices!  See more information about e-books, or browse the children's titles at Overdrive.
Remember to always be safe when using the Internet.
There are usually lots of things happening at our libraries for you to take part in, like our Chatterbooks children's reading groups and under 5s storytimes.  We also have one-off activities like crafts, coding and author visits – see the What's On section for special events coming soon.
Did you know you can borrow toys from us too? We have items that you can borrow ranging from ride on toys to building bricks to puppets and more. Toys are stored centrally and there is no public access to the store. To find the toy you want look on our online catalogue website.  Put a free reservation on the toy that you want and it will be delivered to the library you choose within a few days. You will get a message to tell you it has arrived at the library. Toys are FREE to borrow. We lend them to you for 3 weeks and we would be very grateful if you could bring them back on time, so that they are there for more children to enjoy.  Please look after the toys you have on loan and return them complete and clean.