Making a difference
Every purchase you make in one of our shops helps us to do our work.
By spending a few pounds, you're helping a child to read, giving people the skills they need to manage their life online and stay independent, and ensuring the legacy of the city is available to everybody.
We only stock quality items sourced from local suppliers, and every single item on our shelves reflects our love of reading, learning and celebrating the heritage of our special city.
So what are you waiting for? Visit our shops in Acomb, Tang Hall and York city centre today.
Introducing…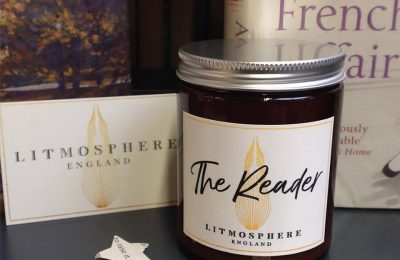 Litmosphere Candles
We are delighted to be stocking Litmosphere Candles in our Explore Shops! Litmosphere England is a new small business providing literary themed soy wax scented candles.
Why choose a Litmosphere Candle?
Litmosphere Candles are perfect for book lovers! Choose from 'The Reader', 'Mr Darcy' or 'Oscar Wilde' with a 30-40 hour burn time.
They come presented in a beautiful amber glass jar with an aluminium lid & the Litmosphere branding. The jar can be washed out & re-used! How's that for Eco-Friendly?
Soy Wax which is much healthier, there are no additives or chemicals thrown into the air by burning Soy Wax unlike the traditional paraffin wax candles.  Soy Wax is Vegan friendly & cruelty free.  The wood wick, an innovative alternative, adds an extra sensory experience of a quiet crackle and a slightly larger flame when burning.
Litmosphere Candles are available at Explore York Library, Explore Acomb Library and Rowntree Park Reading Cafe at £16 each.