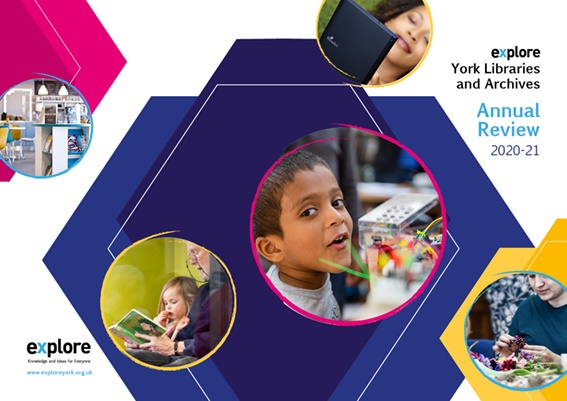 Explore provides the public library and archives service for the city of York.
We run 14 libraries including York Explore – our flagship library and home of the City Archive – 5 Reading Cafes, a mobile library, and a home library service. We employ 90 people. Explore inspires everyone to challenge their imagination, explore their potential and connect with each other, supporting and enriching our communities.
Explore came into being in 2014 as a mutual industrial and provident society with charitable status. We have worked with the Cabinet Office and the Department for Culture Media and Sport to share our learning and expertise in the mutualisation of services and contributed to a toolkit on alternative delivery models for public libraries.
We are one third owned by staff and two thirds by our community members. As a member you own one share in Explore and can have a say in the development and delivery of the service. Anyone over the age of 16 can become a member.
We are firmly rooted in York with a board of directors who are all local people and understand the city's needs. The Chief Executive and board oversee our work, monitor performance and set yearly plans and budgets. Our staff, community members, library users and partner organisations also have opportunities to get involved to help us develop and provide better, more responsive services.
We are registered with the Financial Conduct Authority and recognised as having charitable status by HMRC. We are governed by a set of rules which define what we do.
We have a contract with City of York council. The initial contract period ran from May 2014 to 31 March 2019. After a competitive tendering process in 2018, Explore was the successful bidder and we were awarded a new fifteen year contract to run from April 2019 to March 2034.
---
Enterprising and Innovative  – We seek opportunities to develop and improve.
Community focused – putting people first in everything we do.
Fair – Our services and resources are impartial, open to all and delivered with respect.
Accountable– We are accountable for our collections, programmes and commitments.
Learning – We promote learning and exploration in everything we do, we are reflective.
Collaborative – We work with you to develop high quality services and programmes.
Ethical – We are ethical in our decision making and mindful of social and environmental concerns.
---
About our Board
Our board of directors oversees all our work, monitors our performance and helps us to set our yearly plans and budgets. Under our current rules there are seven directors at any one time. Two places on the board are reserved for directors elected by the community members. Each member of the board has a duty and responsibility to protect the interests of Explore and ensure the organisation is well run. Members of the board are not to represent their own interests or that of any other organisation they have a role in.
---
Explore Management Team