We are committed to helping our communities engage with our collections in as many different ways as possible. On this page you will find just some of our community resources. Please do contact us if you cannot find what you need, and equally please let us know what you think!
Archival Guidance for Community Groups
Guidance Booklet
If you are looking for guidance on how to identify, manage and use your community archive, our Gateway to Your Archives guidance booklet (PDF, 12,698kb) has everything you need to get started.
You can also find hard copy versions of the guidance booklet at any of our Explore Libraries for reference use. At York Explore, in our Family History Room, we hold a selection of reference books which include further information about how to manage archive collections.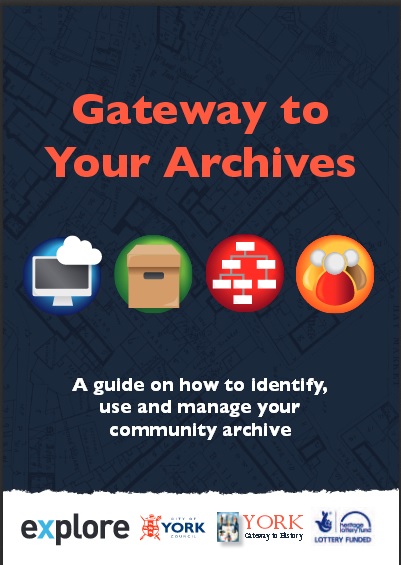 Training Films
We have also created a series of three training films based on the guidance:
Cataloguing Your Collection
See also the British Sign Language version of 'Cataloguing Your Collection'.
Delving Into Digital
See also the British Sign Language version of 'Delving Into Digital'.
Training presentation
You can also view the training presentation delivered as part of the Gateway to Your Archive workshops to which a total of 98 representatives from 52 different community groups attended during 2015.
Worksheets
In order to help you get started in managing your collections, the following worksheets are available for you to download and complete. They are provided as support to the guidance included in the booklet and films.
Box list template and guide (PDF, 196kb)
Disaster planning worksheet (PDF, 154kb)
Delving into Digital worksheet (PDF, 151kb)
Planning a Project worksheet (PDF, 152kb)
Thinking about where you will store your archive?
Have a go at our Build a Community Archive activity (PDF, 268 kb) [plus see a case study from Wigginton Parish Council (PDF, 257kb)] and see if it's an option for your group.
Also, take a look at our Depositing Your Archives page for more information on how to deposit your collection with us.
Reminiscence Resources
Domestic and working life
This reminiscence pack on domestic and working life in York has been created in partnership with University of York's Institute for Public Understanding of the Past. The pack and its user guide combine archives from our collections with film footage from Yorkshire Film Archive. Whilst we can't lend out the accompanying Memory Bank DVDs just now, you can find similar content to support our pack on the Yorkshire Film Archive website.
The D-Day landings
In 2015 we filmed a number of York's surviving Normandy Veterans about their experiences of the D-Day landings on 6 June 1944. These are extracts from more detailed audio recordings held in our archives.
York's Sporting Heritage resources
Thanks to a generous grant from the National Lottery Heritage Fund, we have been working with York City Football Club Foundation and York City Knights Foundation to engage the public with York's sporting heritage. As part of this work, we have created presentations using our archives about York's sporting history. These presentations can also be viewed on our digital screen at the new Community Stadium.
To view the presentations you will need Google Chrome. Once you are in a presentation, you can scroll through or click on the content that interests you. Clicking on an archives image will bring up a larger version.
You can also browse our sporting image galleries on match days at Bootham Crescent, wild sporting weather, local sports teams and sports and the city.