Clifton Explore Library Learning Centre Development
Our Vision
A new Explore Library Learning Centre at the heart of Clifton,
Where you come in wanting one thing, but go out with so much more.
A friendly, accessible, safe space, where you will always feel welcome,
A library with great books to borrow, the place you meet up with friends,
A workspace with Wi-Fi connection, a place to learn something new,
A flexible venue for events and groups, hobbies and meetings,
A place you can trust for advice when life changes or challenges you.
Help us to create your library in Clifton shaped by your needs.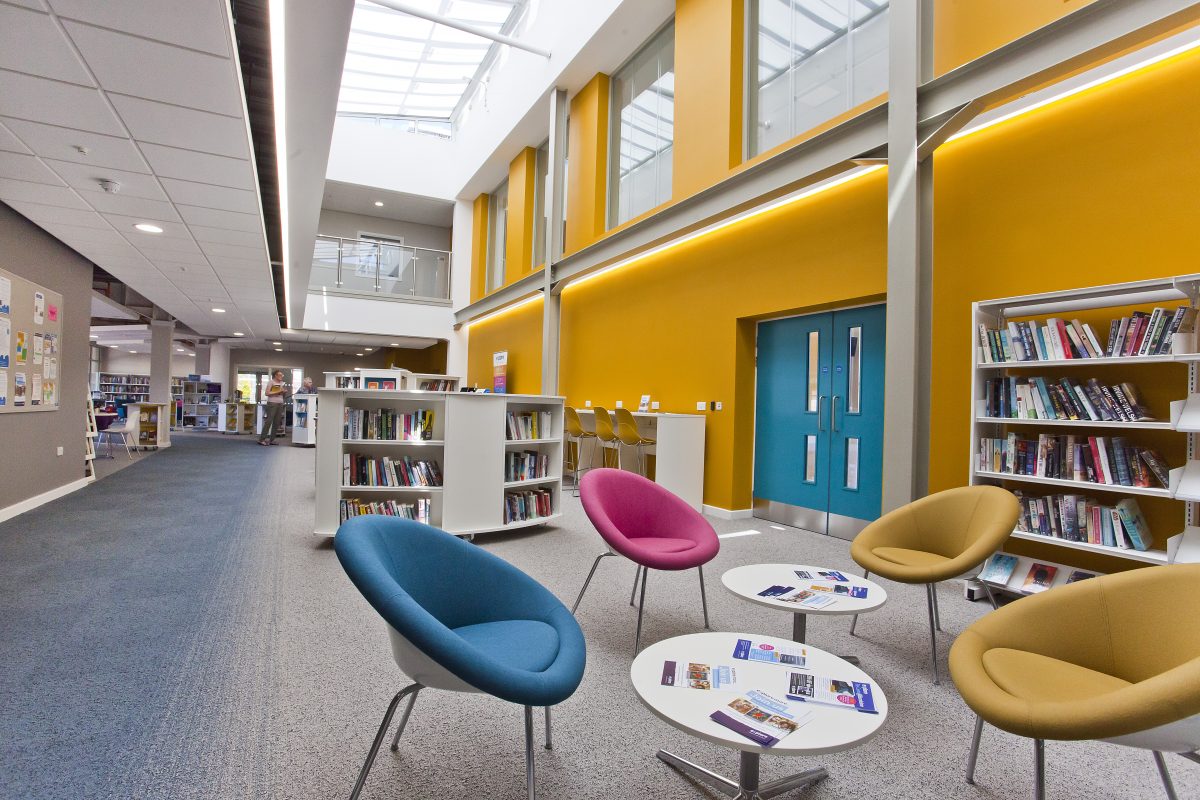 Clifton Explore: the conversation continues
In the summer we asked what you thought of our plans to relocate Clifton Explore to the former Clifton Without Junior School. 90% of you liked the idea. You told us some of the things you'd like to see included as part of the new Explore Centre development.
We've come up with a draft design for inside and outside based on what you told us.
Please hover over the different areas on the images and plans below and click for more information.
Clifton Explore Library Learning Centre: the new site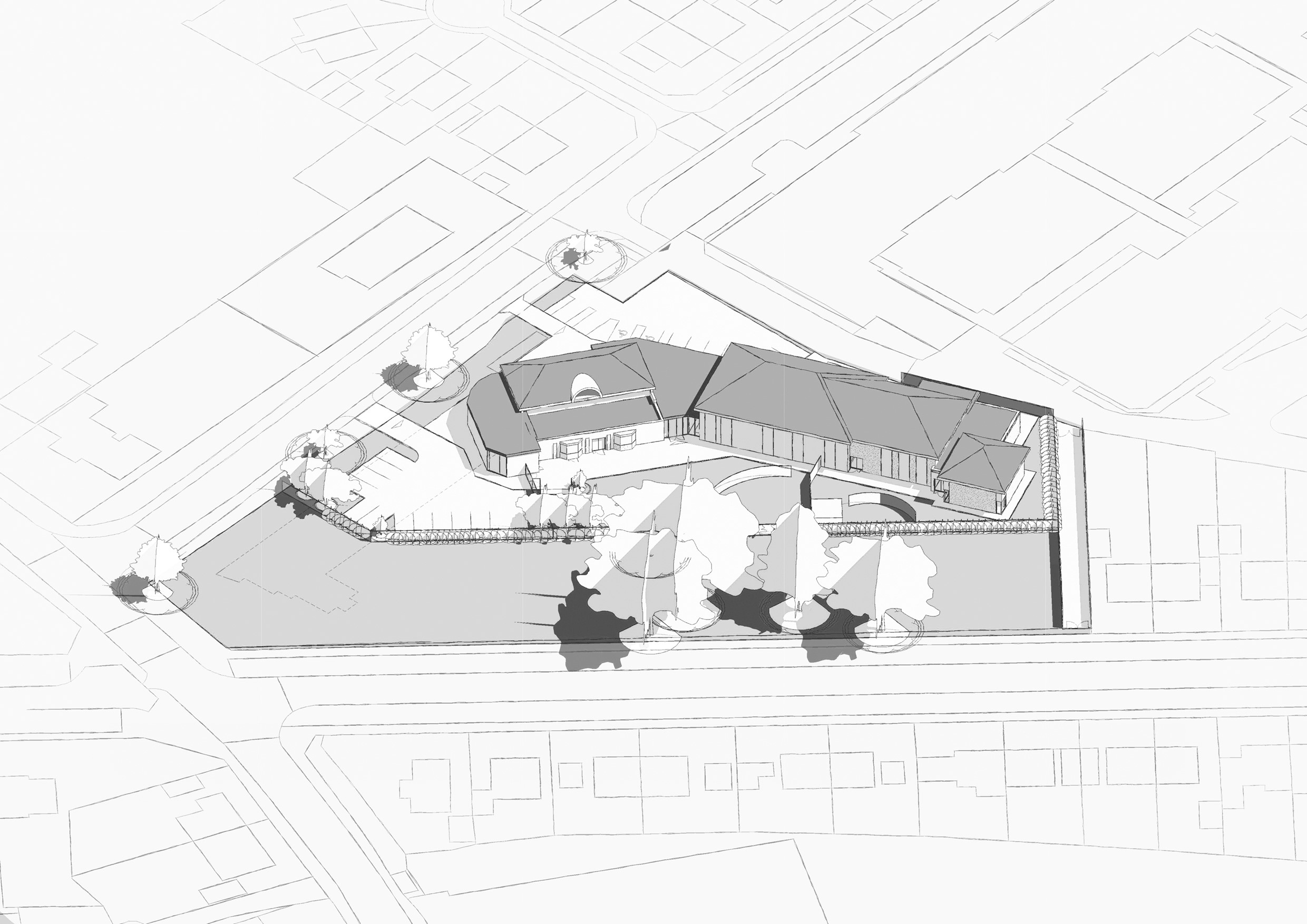 Pedestrian access to the Explore Centre
Floor Space
The total floor space of the proposed Explore Clifton Library Learning Centre is 1431m2. The old library was 272m2.
Eco Design
Eco-friendly features are being considered such as photovoltaic panels, a sedum/ green roof, a renewable energy heating system, energy efficient LED lighting and eco-friendly building materials.
Outdoor space
Spaces for everyone to enjoy with seats outside the Reading Café, picnic benches on the grass, a play space for children, and a community garden.
Green Spaces
Plants will create new natural habitats, and a new hedge behind the small sustainable housing development.
Parking spaces
Parking will include accessible parking spaces, charging points for electric vehicles and cycle parking.
Vehicle access
Vehicle access to the Explore Centre
School Access Path
Although this is part of the site development, the land is under the control of Vale of York
School. The school and the Council are working together to create this important, safe access for students. For further information please contact the Council
Clifton Explore Library Learning Centre: ground floor plan
Our vision is for Clifton Explore Centre to be a hub at the heart of the community, where you choose to come and visit, are inspired to read, learn, create or just to have fun and meet new friends.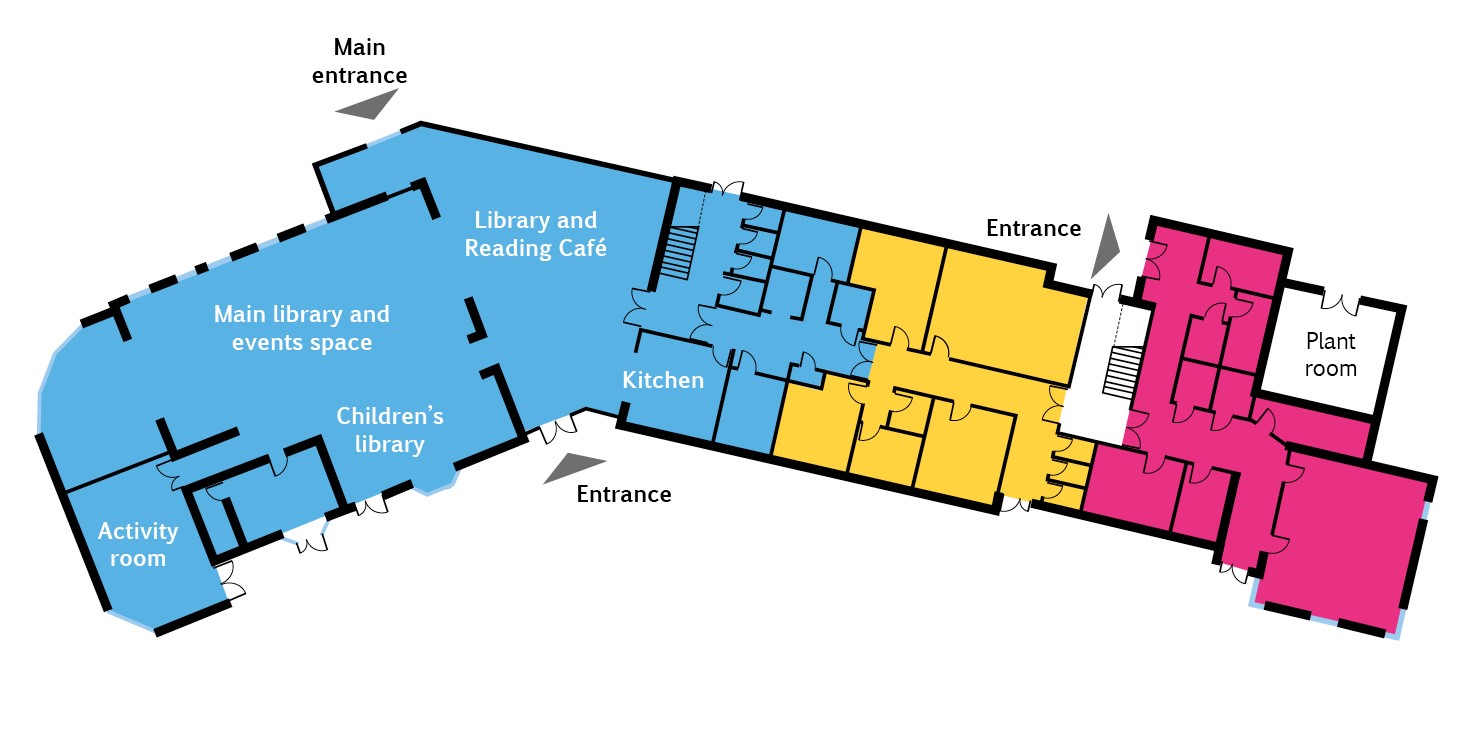 Main library area
We will convert the old school hall with its high, sloping ceiling into a stunning multi-functional space with 15,000 books by day and events in the evening. The design will incorporate study space and computers and the activity room can be used for smaller events or for hire by community groups.
Children's library
We know that developing a love of reading is important for every child's wellbeing, so we will create a special place for families to read, learn and have fun together. This area will open onto the terrace where children can play safely.
Reading Cafe
At the heart of the building is a Reading Café. You told us that a cafe is a key feature for a modern library, a relaxed place to meet up with friends, and enjoy books, learning and events.
Community partners area
Working in partnership with other Community organisations is central to Explore's vision for the new centre. We will work together, spark new ideas and connections, and create joint events and activities for local people. We will be announcing our partners very soon.
Clifton Explore Library Learning Centre: first floor plan
How big is this library?
The old library was 272 m2 while the new library will be a total of 1431m2. Main library space 253m2; Reading Café 124m2; meeting rooms and offices on the first floor 387m2.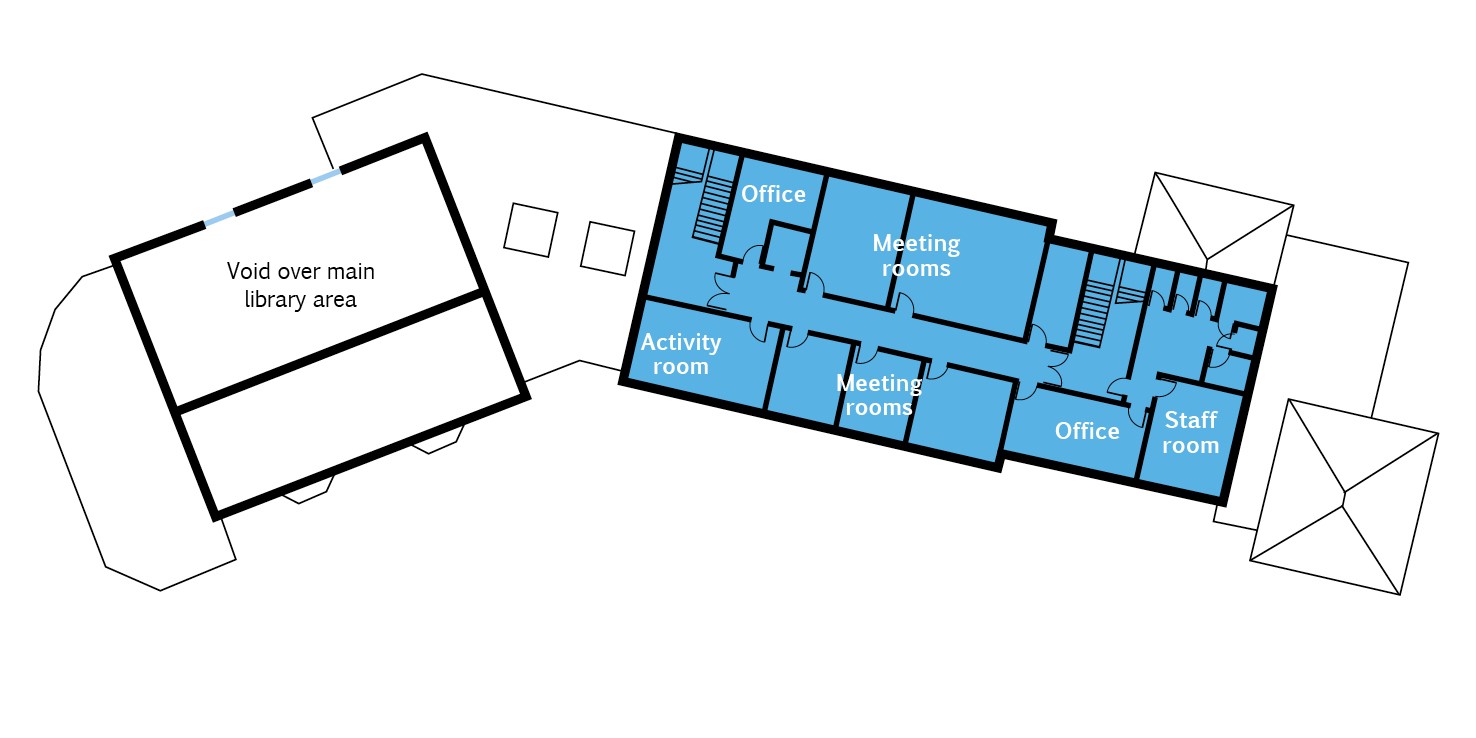 Main library roof
You told us that the architecture of the old building is important to you so the old roof of the school hall will be retained and restored.
Main Entrance
The main entrance has been designed with glazing panels and natural roof lights to maximise the amount of natural daylight.
Accessibility
Accessibility: it's really important to us that you feel welcome, are comfortable and can move around freely in your new library. Accessibility features will include wide automatic powered doors, a Changing Place toilet, and a lift to the first floor.
Learning facilities
Modern facilities for learning  are located on the first floor. Learning is at the heart of our vision and Explore and York Learning have worked together for 15 years. So these first class teaching spaces give us scope to enrich the learning programme. The rooms will also be used for talks and events and made available for hire.
Now tell us your views. What do think of the plans? Have we got it right? Is there anything missing? We want to hear from you between now and 11 December 2021.
Drop-in sessions to answer your questions will be held at Clifton Library on the following dates:
Tuesday 30 November: 3pm – 4.30pm
Saturday 4 December:10.30am – 12 noon
Thursday 9 December: 5pm – 6.30pm
---
Do you have views about the Housing development? Or about the School Access Path? Please contact City of York Council
The Council is proposing to work with a local housing association to build a number of low carbon affordable homes. The income from developing this area will help fund the library project so this is an essential part of the overall site development. For further information and to share your views on this aspect please contact the Council
Although the School access path is part of the site development, the land is under the control of Vale of York School. The school and the Council are working together to create this important, safe access for students. For further information please contact the Council.
---
What did you tell us at the consultation in August?
We asked you to share your views about the first stage of the proposals in a consultation during August 2021. We had 233 responses to the online survey, as well as feedback through other means. We're grateful for the time and thought you put into your feedback. The data shows that a large majority of you support the overall proposal about moving the library to the proposed new site.
About the inside:
You told us what you would like to see in the new library learning centre so we will now draw up plans that includes a Reading Café, space for us to be able to hold lots of different types of events and activities to meet all of your needs as residents – with author talks, children's activities, music, theatre and arts performances and drop-in surgeries from city centre advice organisations being the most popular with you. We will include free wifi throughout the buildings and spaces for you to be able to sit and use computers. You also told us some examples of specific events and activities you would like to see ranging from yoga classes to special sessions for people living with dementia and their carers. We will carefully design our inside spaces based on all these suggestions and start working with our partners on what that might look like as we go forward. Some of what you told us will inform what we offer in the new location, but we will also be able do some of what you told us now while we are still in the current library in Rawcliffe Lane and we will keep you posted on this.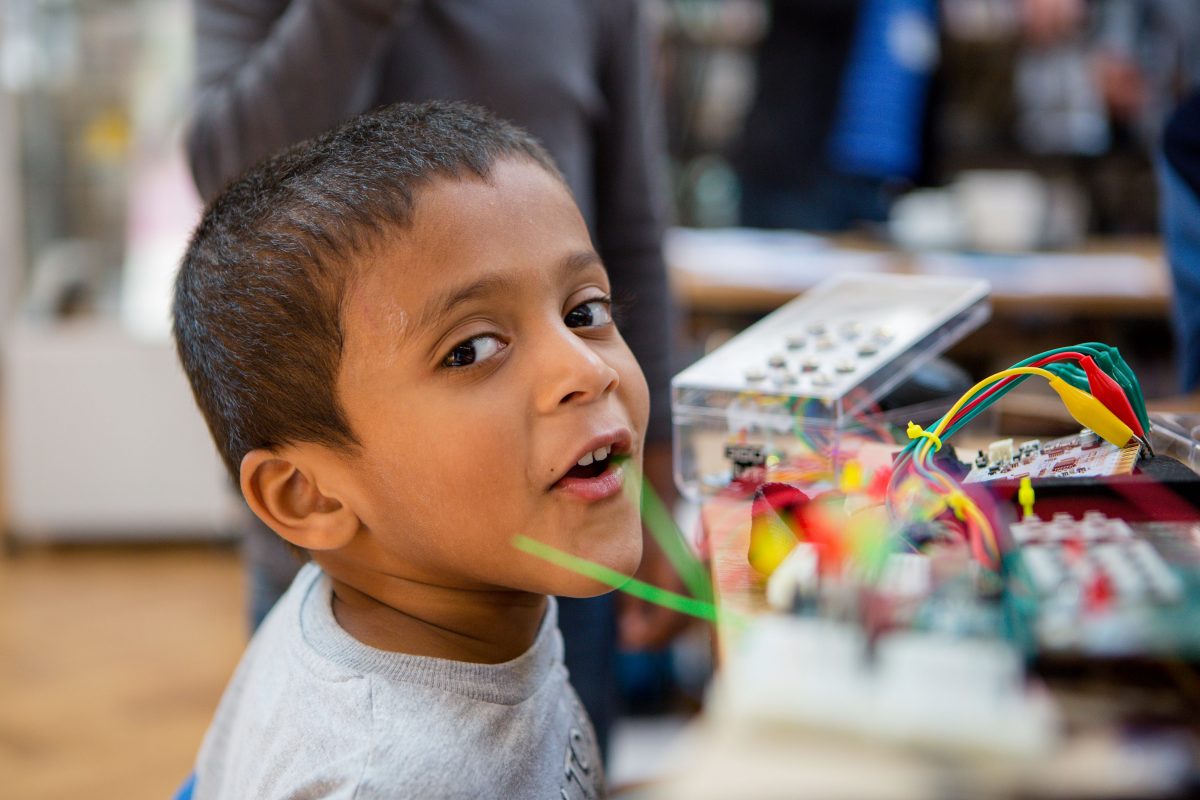 About the outside:
You feel as passionately about the outside space as the inside! You want to see lots of different spaces to sit, relax, read and enjoy being with one another, with space for families and children but also space for you to meet with other adults and just enjoy being together. We will factor these multiple needs into the design of our outside spaces and talk with you further with what we come up with so you can continue to inform the look and feel.
You want to make sure that there is space for car parking somewhere on the site and we will factor that into the design of the whole area.
You care about the environment in all areas of the development, with encouragement from you we will investigate and incorporate elements of eco-design into the scheme and complete surveys to increase our awareness of current wildlife and ecology on the site before any work begins. We will explore this more and aim to have some examples of where we can include this into the design ready for our next conversation with you. You have also raised concerns over the impact of removing the hedgerows, so we will mitigate this by retaining as much of the existing green space as we possibly can and replacing the removal of existing greenery by a planting scheme which creates new natural habitat areas
The housing and the play park proposals:
We are feeding back your views on both. 47% of you were opposed the proposed re-location of the play park to the new library site. This information will be shared with Clifton Without Parish Council who are responsible for the play park and who will make a decision on next steps based on this response. We will keep you updated as we have those conversations. 59% of you were in support of seeing a small development of affordable homes on the site. This has been shared with City of York Council and they will continue conversations with you on what these homes will look like.
The access route to Vale of York academy:
You had a few questions about this route into the school. City of York Council defined this as the most convenient place to locate the new school access path to maximise safety for students The alternative location would have been alongside the vehicle entrance off Rawcliffe Drive and in the Council's view this was discounted. The lease is now in place between the Council and Hope Sentamu Learning Trust (who are responsible for the school) and we are committed to providing safe access for students as part of this project. We still believe the proposal is the safest for students. The Water Lane access for students will remain and the new Fairway access will be gated and locked out of school hours.
And finally….
What will happen to the current library site once we have left it? This question came up a number of times. We lease the land from City of York Council, so the land belongs to them. We will speak with the Council and hopefully have more information to share with you as we continue the conversations.
The full results are available on York Open Data Platform. We have taken steps to made this document as accessible as possible, but get in touch if you need any assistance with accessing or interpreting the information.
Next steps – continuing the conversations:
We have taken all of your feedback and this will now feed into the first design of the building and the surrounding space which we will then share with you. We hope to have something prepared by mid-November. We will continue as before by producing printed information to share with you and having open sessions for you to come along and speak to us.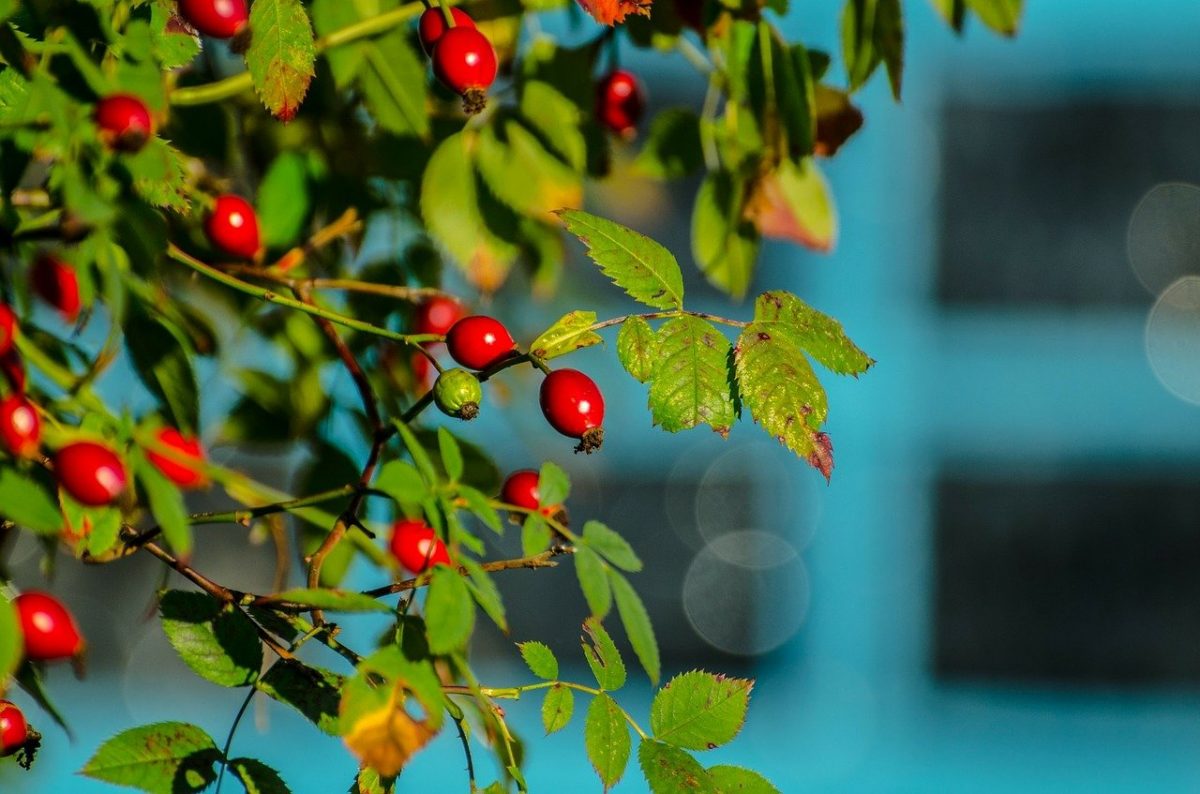 The Proposal
City of York Council's commitment to libraries
As part of our contract with Explore City of York Council made a promise that the number of staffed libraries in York would be protected. We want to build on the success of our libraries, re-imagining them as centres of opportunity and learning for everyone. In February 2019 the Council agreed to spend £4m on significant improvements to the Explore Centre libraries in Clifton and Acomb. Clifton Explore's current site is too small, so over the past year we have researched new sites in the local area. After an options assessment, we think the best site is on Rawcliffe Drive, the old Clifton Without Junior School.
Why did we choose this site?
The Location: the new site is accessible on foot, cycle or by car from Rawcliffe Drive, Rawcliffe Lane and Fairway. It is easy to find, close to the existing library, Vale of York Academy, on bus routes, and local amenities, and it has lots of people passing by.
The Building: We will breathe new life into a vacant site and restore a local building of character and history. The site is big enough to let us deliver the true vision of an Explore Centre where many organisations can work together to benefit local people.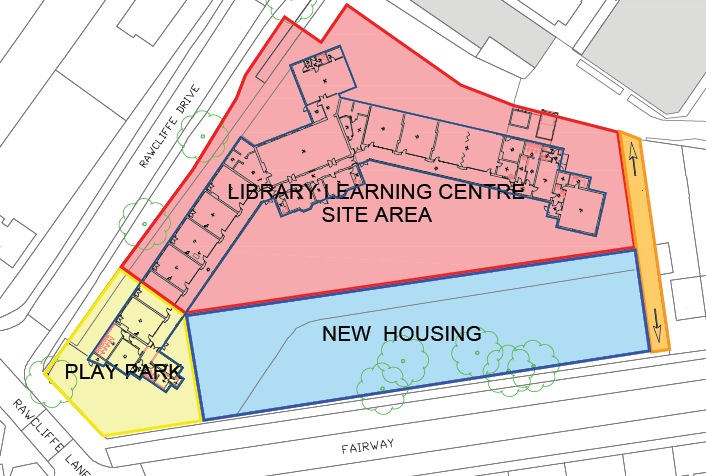 Explore Library Learning Centre
A landmark library building with over
15,000 books at its heart
250 square metres of flexible space – library by day, performance space in the evening
A Reading Café where you can relax, eat, drink and meet friends
Meeting rooms for community use or to hire
PCs to use and free wifi
Outdoor space to sit, reflect and play
A friendly, accessible, safe space, where you will always feel welcome
Play Park area
At present Rawcliffe Lane play park is next to Clifton Library. We could move it to the new site so that children and their carers can use the café and library when they come to play.
New Housing
There is a suitable piece of land alongside the library for a small housing development. We have the chance to work with a local housing association to build a small number of low carbon, affordable new homes here.
School Access
We will create a gated path for cyclists and pedestrians so everyone can get to school safely from Fairway.
When will the new development happen?
We need to carry out thorough checks on the site, understand all the costs, and make sure that there is money in the budget to pay for the development. Only then can we ask the Council for agreement to start work. So we have no firm dates at the moment, but we hope that work will start in 2023.
What are the next steps?
August 2021: Stage 1 consultation ran
Autumn 2021: We are evaluating your responses and start to draw up designs
Winter 2021: Stage 2 consultation – we will share early site designs and update you on progress.
Winter 2021/Spring 2022: Tours of the former Clifton Without Junior School site.