This is where you will find Reading, Learning and Fun for Children and Families. Keep visiting this page, as we update it regularly.
Exclusive Explore events on YouTube
Five Children and It
Join us on YouTube for a special performance of E. Nesbit's Five Children and It adapted and performed by Anna Soden.
Anthea and her brothers and sister live in a sleepy small Northern town. She's longing for a bit of adventure, but there's nothing to do! Until one day, they make a strange discovery on Scarborough beach. Join Anthea, as she tells her magical story through music, story-telling and puppetry. Sometimes the best adventures can happen on your own doorstep.
Join us for the premier performance at 6pm on 7 April on our YouTube Channel
If you miss the premier you will be able to watch the recording on YouTube until 7pm on Wednesday 14 April
Hoglets World of Tales for under 5s
Mama Hoglet is going on a tale-spinning journey around the world. Every week we'll be bringing a different folktale from across the globe into your living room and through storytelling, songs and games we'll bring these lovely classic tales to life. Watch the premiere and then watch again as many times as you like.
Available now The Rabbit and the Moon Man
Available now The Owl of Colwyd Coomb
Available now The Firebird
Available now Tidalik The Frog
Available now The Lion And The Jackals
Available now How the Jellyfish Lost his Bones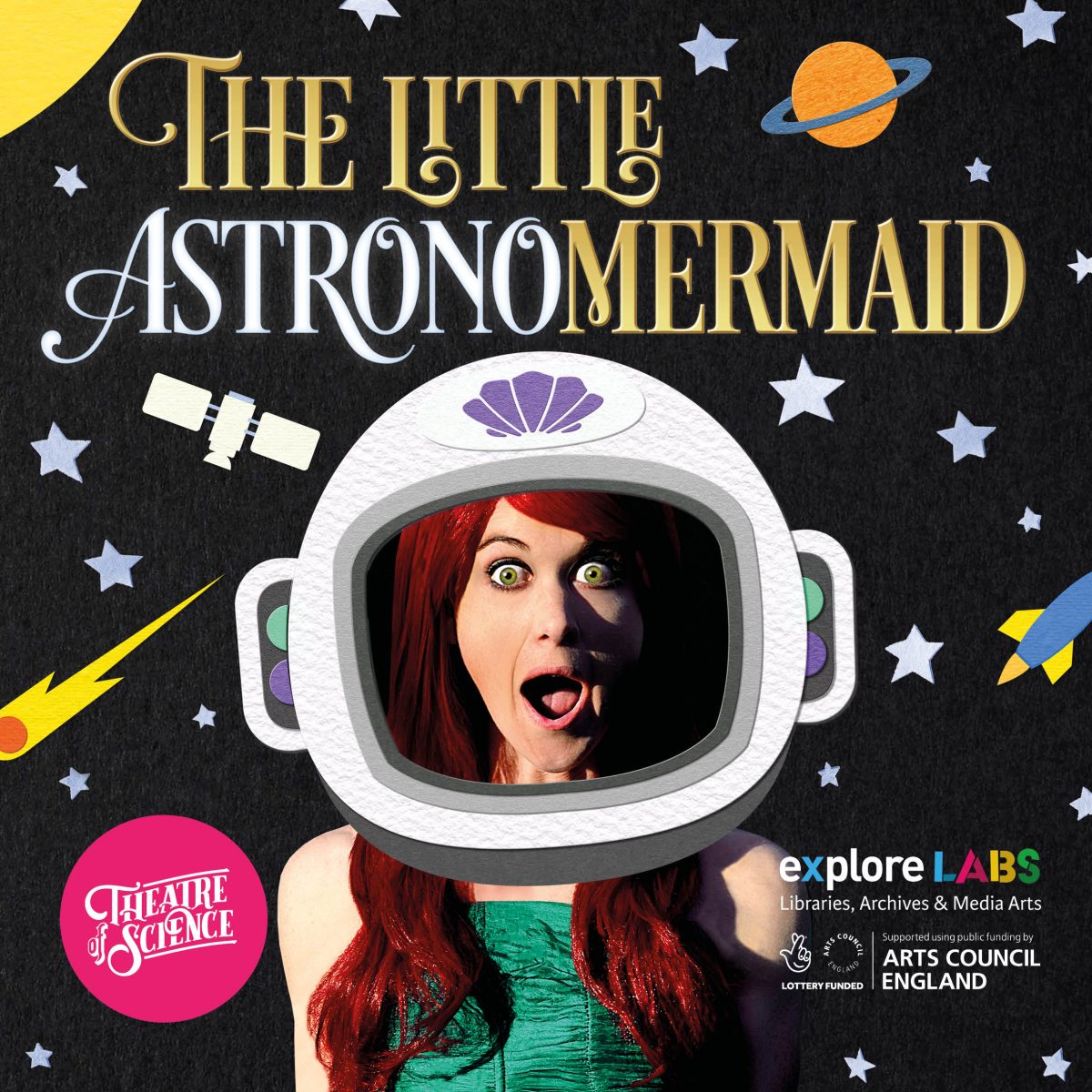 The Astronomermaid
If you missed our exclusive live pantomime on 21 December, or you want to see it again, it is here. We hope you enjoy it!
We have moved some of our links to stories to our YouTube Channel so that you can see all of them together. We have a playlist and some favourite channels
Are you taking part in The Bloodaxe Reading Challenge ? See how to complete the challenge on our lockdown page
You can book our online events for adults and children here
Class visits
We at Explore York Libraries and Archives are really sad that classes can't visit us for the moment so we have recorded a video to show about the library. It includes a story, a song and some information on what you will find in the library. If you do any work on libraries and books, please share it with us either on Twitter, Facebook or via contact@exploreyork.org.uk
Look, Say, Sing, Play
City of York Council has teamed up with the NSPCC, and partners across the city, to help parents and carers make great interactions with their babies and toddlers, supporting their brain development.
New parents and families with children under two are being given information about the city's Look Say Sing Play campaign, which gives positive examples of how parents can help their young children develop through looking, saying, singing and playing.
More information about the campaign, and how you can get involved in York – including free training opportunities and resources – is available here
There is a webpage for parents to access support and resources at www.york.gov.uk/LSSP . If you missed the launch of Look, Say, Sing, Play you can see a video of it via the Council's Facebook Live page. The video can be accessed at www.facebook.com/cityofyork
Authors, books and stories
Book Chat : Reading with your child by The Open University and Macmillan books give some great tips on sharing books with your children, while sharing three great stories. One Fox, The House that Once Was,  The Same Inside
Mud Pie Arts have cloud inspired stories Cloud Tales on their website. Each story is inspired by a cloud spotted over York.
If you are missing story times at your local library there are lots of great stories to watch created by World Book Day.
Follow #UnitedByBooks on social media for activities and special content from leading children's reading organisations across the UK, children's authors and illustrators.
BookTrust Bookfinder find books, author interviews, online stories and reading tips.
Barrington Stoke publish super-readable, accessible books for children who are reluctant or struggle to read due to dyslexia or visual stress.
100 books recommended by Peters, our children's book suppliers, plus activity sheets.
Books for Keeps, the leading, independent children's book magazine, can be viewed online or downloaded and printed.
Who Next…? An online tool to guide children who have already enjoyed stories by one writer to find others who write in a similar way. It also includes suitable titles for dyslexic and reluctant readers.
The UK's biggest recommendation site for children's books, LoveReading4Kids has free Opening Extracts of thousands of children's books, videos, activities, books, plus tips for home schooling.
Jackanory Storytelling for younger viewers, using videos and read louds.
Children's authors Live on Demand Scottish Book Trust
Are you needing your Harry Potter fix? You can download reading guides from the Harry Potter Books website. and find a host of games and creative ideas at www.wizardingworld.com
Walker Books are hosting Picture Book Party with information about picture books, activity sheets and competitions.
Leeds Libraries has been working in partnership with local Leeds based Children's Theatre company Tutti Frutti  www.tutti-frutti.org.uk on a series of digital storytimes and Explore can now offer them to York families for free. You can sign up on Eventbrite.
Fun and activities
Our friends at York Dance Space have made a film with some young people from York, during lockdown. They created the movement and poetry themselves and you can also find it on Instagram.
Do you love science and funny facts? Why not join Andy from the National Railway Museum's science channel for Andy's Kitchen show – YouTube
British Science Week fun from 5th to 14th March with the science experiments from Usborne Books.
Interested in animation? ASCEL have posted a free Stop Motion Animation Workshop on their Youtube Channel
Love Lego? Join Explore's Online Lego Club on our Facebook page for a new challenge every Saturday morning.
In the summer we created some virtual activities for you to take part in. These include crafts, an illustration workshop, a puppet workshop and a silly squad play to watch.
Join in the fun with Hoglets and Theatre of Science in our exclusive play – Operation Super Creature
Egg boxes and pegs at the ready! Join Mama Hoglet Gemma as she shows you how to make a crocodile puppet
York Mumbler online parenting community has suggestions for events and activities.
Hoglets are running mini versions of their classes online for free.
York Cares have some Fun with Numbers activities for you to try.
BookTrust Home Time games activities and quizzes has a new section for children 5 and under
The National Literacy Trust's Words For Life has activities for families with children aged 0-12.
Articles, games and activities with Penguin
Scholastic's online Kid's Club.
Activities and information from the British Library: Discovering Children's Books
BBC's Tiny Happy People has online resources and weekly updates to help encourage children's communication skills.
Publisher Hachette have lots of activities from their authors and illustrators
Learning at Home
Technology in Play are running a daily After school Club at 3.15pm Monday to Thursday. Visit their website to find out all the details.
The Children's Commissioner has issued a Digital safety and wellbeing kit for children and parents.
The NSPCC Net Aware website gives parents and carers safety advice and information to keep up to date with the latest news about social networks, apps and games their children are using.
BBC Bitesize Daily online lessons for 3 to 16+. Scroll to the bottom of the page for help with Early Years learning.
Learning resources from The Poetry Society
Resources for students from The Historical Association
Activities for home schooling at Twinkl
Free live fun science sessions are available on Facebook with Theatre of Science
STEM Learning have launched a new page on their website with free content and resources for home learning. The content will be updated weekly and covers primary and secondary and across maths, science, computing and D&T.
The University of York have a list of resources suitable for 5 – 18 year olds to use at home from a variety of organisations. Sign up at Science at Home
Rhyming Multisensory Stories has resources for individuals age 3-19 with special educational needs. It includes sensory ideas, inspiration and strategies and there is a story library of fully resourced, step-by-step multisensory stories helping to build communication skills and connect individuals to literacy and culture in a way that is meaningful to their lives.
Coronavirus and children