Archives Projects: Families
Animating the Archives
In the summer of 2016, ten children delved into York Explore's archive, lending their vivid imaginations to bring it to life in a vibrant clay animation film created for the Summer Reading Challenge programme. Experts from Glass Cannon independent animation company spent three days with the kids, aged 9 to 12, at a pop up animation studio.
The children were actively involved in all the creative processes, including storyboarding, moulding clay models, making props and sets, stop frame animation, audio editing and chroma key. The following summer, in 2017, a new cohort of children created two films based on the archive of the library's own history, to mark the building's 90th birthday. The project is recognised by York UNESCO city of media arts Digital Adventurer scheme to encourage and support children and young people in their creative and cultural pursuits and future careers in the sector.
Lendal's Last Ferryman
Together with Thea Jacob from Song Box, Archivist Catriona Cannon hosted an interactive storytelling workshop with 4-9 year olds and their parents/carers. Studying old photo albums, scrap books and maps from York Archive the children helped Thea bring to life characters and places from York's past focussing in particular on John Leeman, the last ferryman to cross the river where Lendal Bridge now stands.
"We very much enjoyed it. I very much liked the calmness of the space, content and your delivery. I particularly liked the map making, songs, rhyme as well as the story making. It felt different to anything else we have done." Sara Mair with Izzy, "Lendal's last ferryman" Jan 2017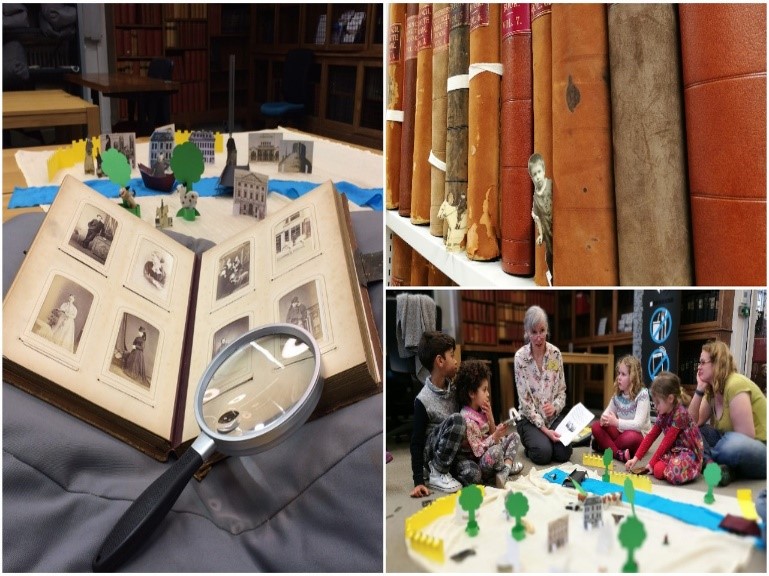 Map Attack
Keep an eye out on our website for details of our next Map Attack session, run throughout the year at various Explore Libraries. Drop in and use our Lego and Duplo to build the wonderful City of York, taking inspiration from historic maps of York from the city's archives.
What will you create? Will you rebuild historic York, using Lego to construct iconic sites such as the city's walls, York Minster or Clifford's Tower? Will we see the present day represented in your Lego constructions, such as your favourite places to visit in York? Perhaps you will re-imagine York as a futuristic city, the choice is yours!