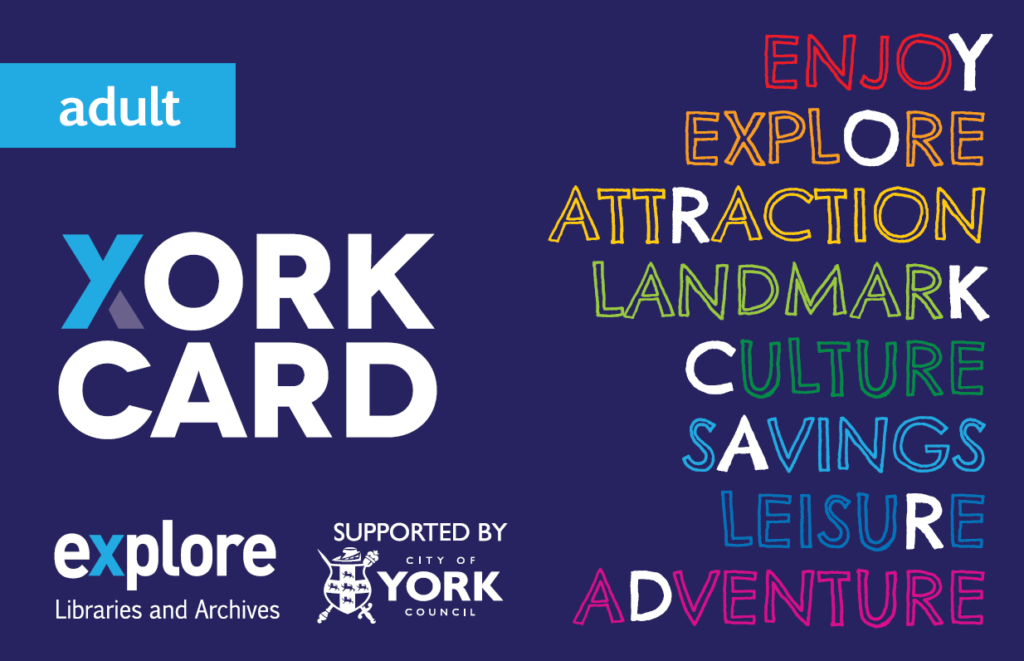 The York Card is a residents' card that offers some great discounts at top attractions and leisure facilities across the city of York.
Available to all who live or work within the York area, the York Card costs £6 for adult residents or £10 for non-residents who work in the city and is free to children and young people up to the age of 18 and adults on qualifying benefits. Valid for 12 months, a York Card offers potential savings of over £50 a year – based on only one visit to each attraction!
IMPORTANT UPDATE : From December 2020 onwards all new and renewed York Cards will be separate from Library cards rather than being a combined card as before. You will need to register separately for library membership.

Digital York Card NEW from December 2020
New and existing card holders will have the option of using their York Card via the new York Card website from December 2020. Please be aware that if you are a non-resident and wish to buy the £10 card you will need to visit a library in person to do so.
As a digital card holder you will be able to buy and renew your York Card, add family members and book discounted attraction tickets.
If you are a new customer you can buy a York Card online.
If you want to renew an existing York Card you can login to the  York Card site to access your account and renew your card through the Login to your York Card link at the top right-hand corner of the website. Your username will be the final 6 digits on your current York Card. The option to change this is available on the login page.
Take a look at the How Does It Work? page to find out more.
You can buy or renew a physical York Card at your local Explore library or Reading Cafe if you prefer. If you are a non-resident who works in York you will need to visit a library with evidence from your employer in order to buy a digital or physical card. You can pay with a credit card at the large Explore Centres and Reading Cafes, but it's cash only at the smaller libraries.
Frequently asked questions
Is there a concessionary rate?
York Cards are free for children.
York Cards are free for adults in receipt of any of the following means tested benefits: Universal Credit (without earnings), Employment Support Allowance, Income Support, Pension Credit (Guarantee credit), Carers Allowance, Council Tax Support, Housing Benefit, Widowed Parents Allowance. The York Card is also free if you are in receipt of Personal Independence Payment, Disability Living Allowance or Attendance Allowance. Please remember to take your awarding letter with you if getting a card from a library or Reading Cafe.
Which attractions are part of the York Card discount scheme?
Please visit the York Card website to find a full list of attractions and the discounts on offer.
Please see the FAQs page on the York Card website for more questions and answers.
Conditions
There are a few simple rules to ensure that the scheme isn't abused. Please read them before using your York Card.
A York Card may only be used by the person to whom it is issued.
You must show your York Card to obtain the discounted rates – one discount per card presented.
Tickets, entry and use of facilities are subject to availability.
Charges are subject to change without notice.
You may be asked for additional proof of identity.
£6 York Cards are available to residents of the City of York Council area.
£10 York cards are available for people who work in the City of Council area, but are not residents.
Our partners reserve the right to place conditions on the discounts offered; for their terms and conditions please see the respective websites.
All offers are subject to change. Please see this website for the latest updates.