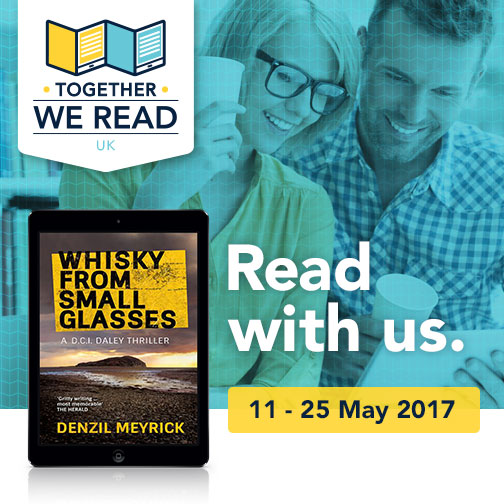 We will be taking part in the UK's first 'Together We Read' digital book club from 11 May to 25 May.  During this fortnight, customers will be encouraged to borrow Denzil Meyrick's Scottish crime novel 'Whisky from Small Glasses' as an ebook from our overdrive e-library at the same time as library customers all over the UK, and to participate in an online conversation about the book.  The whole of the gripping DCI Daley series is part of the permanent e-library collection, but during this special fortnight we will be able to offer unlimited copies of this first book in the series so that readers won't need to join a waiting list to join in.
'Whisky from Small Glasses' is a well-woven tale set in a small Scottish coastal town, and introduces us to DCI Jim Daley, a detective trying to solve a murder investigation that turns more deadly than he could possibly imagine.
"When writing this first book, I was anxious to represent the dark humour deployed by the men and women who populate our emergency services," said author, Denzil Meyrick. "It's a pressure release, if you like; a way for those who witness the darker side of humanity that we hardly glimpse—and often recoil from when we do—to cope with their working lives. I'm so pleased that 'Whisky from Small Glasses' has been chosen as the subject of one of your discussions. I really hope you'll enjoy it, and go on to read more of the adventures of DCI Jim Daley."
Borrowing ebooks is free to all York residents: all you need to read this or any of our other 3,500 ebooks is a library card.  To get started see the overview of how it works on our e-library webpage.  'Together We Read' is made possible through a partnership between Explore York Libraries, OverDrive and Birlinn, publisher of 'Whisky from Small Glasses'.