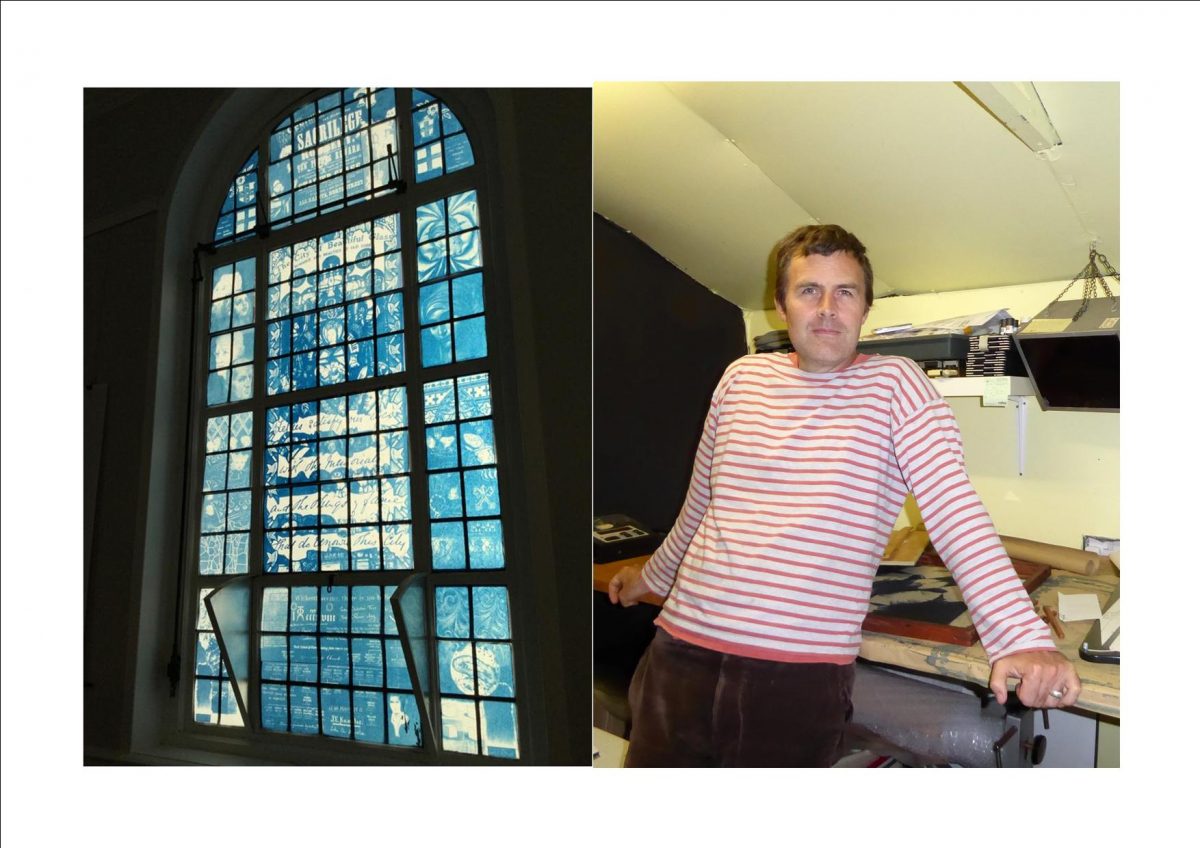 Alun Kirby, artist in residence at York Explore, has just finished installing his beautiful piece of artwork, inspired by the Knowles Collection from the York Explore Archives.
The collection comprises drawings, research notes and hundreds of glass plate negative images of stained glass from York and beyond.
Let Us Satisfy Our Eyes celebrates the Knowles Collection, the work of the Archive in preserving it for public use, and the glorious beauty of York's stained glass windows.
Come and see it for yourself in the York Explore cafe.
Web:             AlunKirby.com
Twitter:         @AlunKirby
Instagram:    AlunKirby

Alun's blog, 11th December 2017
Making 'Let Us Satisfy Our Eyes'
An amazing aspect of my role as Artist in Residence so far, has been accessing the jaw-dropping Library Archive.  Having a background in photography, it was the glass-plate negatives of the Knowles collection that first intrigued me.  These are photographs made on glass, from the late 19th and early 20th century.  The archive contains almost 1000 of these, of which several hundred are fully catalogued, showing stained glass from around York and beyond.
The Knowles collection, of which the negatives are a small part, also contains notebooks, scrapbooks, research, drawings, paintings and other objects used by the Knowles family of stained glass painters over 3 generations. It also contains fascinating scrapbooks of newspaper cutting and other York ephemera from 1850s through to the 1930s.
Drawing on Knowles' lifelong obsession with, and pride in, the stained glass in York, a new 'stained glass window' was planned.  Referring back to stained glass and the importance of light, and the Victorian origins of the Knowles business, it was to be made in cyanotype. This is a photographic technique invented in 1842, which uses sunlight to change chemicals into a blue colour.
Firstly, the Knowles collection was thoroughly examined and hundreds of images were taken of glass plate negatives, drawings, text and handwritten notes, newspaper cuttings and public posters.
Next, these digital images were collaged together in Photoshop to make negative versions of the final window panels. The window uses almost 200 individual images altogether!
Once the digital versions were finished, they were split into almost 40 A3-sized segments. These segments were then printed onto transparent acetate sheets to act as the 'negatives' for printing as cyanotypes.
For the cyanotype printing, tissue paper was coated with photographic chemicals, a negative placed on top, and then left in the sun to expose. Using sun, in York, in November, worked much better than one might expect! Eventually all the final blue images were ready.
All that then remained was to cut them to size and place them on the window!
The result is, hopefully, a work which celebrates the stained glass of York, and the artists such as the Knowles family who have been making and caring for York's stained glass for over 800 years.
If you would like to find out more about the Knowles collection, it is fully open to the public by request at the Archive information desk, on the first floor of York Explore.  It can also be searched online. Just got to https://exploreyork.org.uk/ , click 'Search Catalogue', and select 'Archive' from the drop-down menu!
Watch Alun's That's York TV News appearance here.