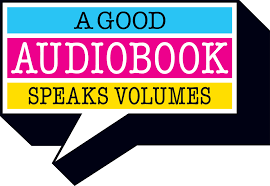 June is audiobook month. Why? Because the Audio Publishers Association have declared it so! Perhaps because audiobooks are great for long journeys, so around now families are selecting audiobooks for their summer road trips.
It's not just a summer trend though, all year around we find that people borrow audiobooks for a wide range of reasons. There are busy people who don't get much chance to sit down and read but can listen to a book whilst doing the household tasks. For some visually impaired people it's a way to keep up their reading habit after their sight has started to fail. We lend audiobooks to sales-people and others who drive a lot for work, to keep them entertained during long hours on the road. Some readers tell us they find it easier to approach demanding classics when somebody is reading it aloud.
Whatever the reason, we have a well-loved audiobook collection, and you might want to try it (in June or at any time!). We offer audiobooks in various formats, including a new online collection which launched 6 months ago. As with all books, you can borrow audiobooks free, and it's a three week loan period which is usually renewable (unless another reader is waiting).
CDs
We have 4,000 audiobooks on CD including adult and children's titles, non-fiction, thrillers, romances and everything in between.
Pre-loaded MP3 players
We have 1,000 audiobooks on pre-loaded MP3 players. These handy devices are easy to use. Just plug in your own headphones and batteries, and start listening.
Downloads
We have 1,200 downloadable audiobooks which you can download straight to your phone, tablet or laptop. The great thing about e-audiobooks is that they automatically expire after your loan period so you can't get fines.  For an overview of our two download services see our e-audiobook webpage.
To be part of the June is Audiobook Month conversation follow #jiam2016 on twitter.