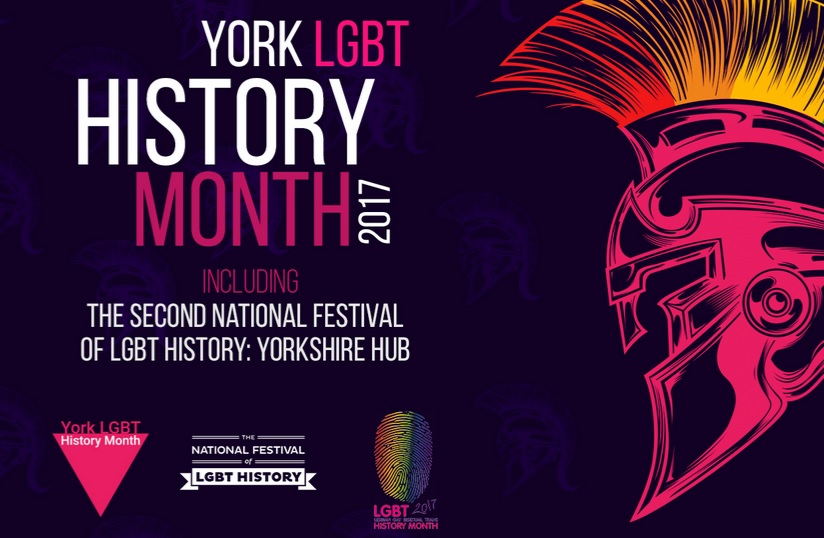 For the second year, York will be hosting the National Festival of LGBT History. Visitors can drop into York Explore any time between 10.30 and 4.30 to discover hidden stories and forgotten heroes from LGBT communities in Yorkshire and beyond. The day begins with the story of Barnsley's gay ex-coal miner and World War Two veteran Maurice Dobson, and the programme ranges from transgender military personnel to lesbian music hall stars and ends with a wine and nibbles reception followed by a round table discussion and  informal workshop about the creation of LGBT archives with City Archivist Victoria Hoyle.
The National Festival of LGBT History will tour England during February, visiting other towns and cities including London, Shrewsbury and Bournemouth. The 2017 festival marks the 50th anniversary of the Sexual Offences Act, which partially decriminalised sex between men.
The festival in York is organised by York LGBT History Month, a registered charity that coordinates a month-long programme of events in the York area each February.
LGBT History Month has been celebrated worldwide since 2005. The purpose of the event is to increase the visibility of lesbian, gay, bisexual and transgender (LGBT) people, their history, lives and experiences. The ultimate aim is to raise awareness and advance education on matters affecting LGBT people in order to promote their welfare and benefit wider society.
Kit Heyam, Lead Coordinator of York LGBT History Month, says: "LGBT History Month in York is an opportunity for our whole community to learn about and celebrate the stories, the people and the communities that have been invisible for so long. As a young trans person, learning about LGBT people in the past was really important to me – it stopped me feeling isolated and made me realise I wasn't alone – and this is why I'm still so passionate about bringing LGBT history to light. We're really excited to be hosting the National Festival of LGBT History again this year, and we're looking forward to a whole month of events that will reveal fascinating stories and provide an opportunity to celebrate our past and our future."
More information can be found on the website yorklgbthistory.org.uk