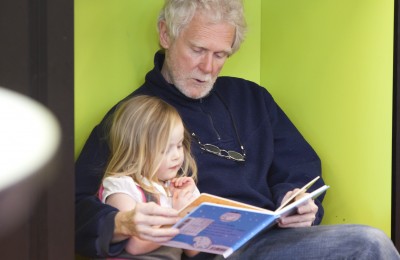 We've put together a Explore at Home: Children's page with links to activities and information for children and families to enjoy together at home.
It's never too early to join the library – bring your baby along and see what's available.  Information about borrowing books and toys is below, or click the links to find out about our regular storytimes; one off events; bookstart; and the Summer Reading Challenge.
Babies and Children Love Books!
All members can borrow up to 20 books.  You will need to be a library member, which is free.
We have a wide range of board books for babies, some with sound and different textures to appeal to the senses.
We also offer picture books for toddlers and pre-school children. Hundreds to choose from – favourite TV characters; books about everyday situations such as going to playgroup or a visit to the doctor; books with songs, nursery rhymes, number, colour; dual language books; books to share at bedtime, anytime.
Once your child has a love of books they will have their favourites that they will want read to, again and again … but they will also want new ones. So bring them to your local library – thousands of books to choose from for free!
Toy Library
Please be aware that we are currently not offering this service during the national lockdown. Kindly refer to the Explore During Lockdown page for further updates.
Did you know you can borrow toys from us too? We have items that you can borrow ranging from ride on toys to building bricks to puppets and more.
If you would like to use this service you will need to be a member of the Library. You can get a library card free from any library.  Alternatively you can pay for a YorkCard which offers extra benefits, and use this card to borrow toys.
Toys are stored centrally and there is no public access to the store. To find the toy you want look on our online catalogue website.  If you select "toys" in the first drop down menu you can see all we have. You can limit this by adding a specific search term in the last box like 'farm' or 'cars' or 'puppet'. You will see a brief description and photograph of the toys available. Put a free reservation on the toy that you want and it will be delivered to the library you choose within a few days. You will get a message to tell you it has arrived at the library.
You will have one week to collect the toy from this message. Please come to the staff desk and we will issue your toy on your library card or Yorkcard.
Toys are FREE to borrow. We lend them to you for 3 weeks and we would be very grateful if you could bring them back on time, so that they are there for more children to enjoy.
Please look after the toys you have on loan and return them complete and clean.
We hope you enjoy this service!