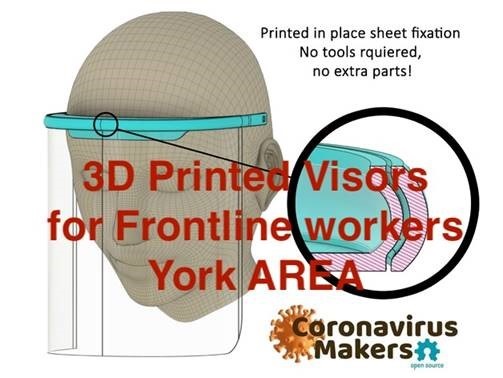 Explore is supporting an initiative using 3D printers to print safety visors to a design used across Europe and distributing them to frontline workers in York. The project is being led in York by two of Explore Labs digital makers.
Working as a collective they are mobilising local makers to use their skills and equipment to support frontline workers in the fight against Covid-19. Explore York has loaned the project three 3D printers and there is a network of at least 50 more printers today from a standing start of just two printers a week ago.
If you or your organisation know of anyone who can help with equipment, advice or skills please get in touch via the Facebook group
If you have a 3D-Printer and want to get involved, send an email with 'I have a 3D printer' in the subject line.
If you live in York or the surrounding area and need a visor, send an email with 'visor please' in the subject line.
If you don't live in York they will try and help you find a 3D-Printing group in your area.
Additional information about the project:
The visor design is based on a widely used design used by makers across the UK, Europe, and the world in response to visor shortages. PETG medical grade 3D filament is being used. The network has pulled together expertise from a variety of fields including the NHS and clinicians who are providing and sharing advice, guidance, and expertise. The York network is also in regular contact with similar networks in the UK and worldwide, and the project is supported by local organisations including York University, York St John University, Tang Hall Smart, and others.
The network has received legal advice and risk assessments are in place. All visors are transported centrally to a space where they are then cleaned, disinfected, packaged, and sealed in accordance with professional guidance before being delivered safely. Each visor includes instructions (including to clean/disinfect before use) and a disclaimer. The visors are single use only.