York's full moon premiere cinema screening of the new HD/1080 remaster of the 1981 comedy-horror classic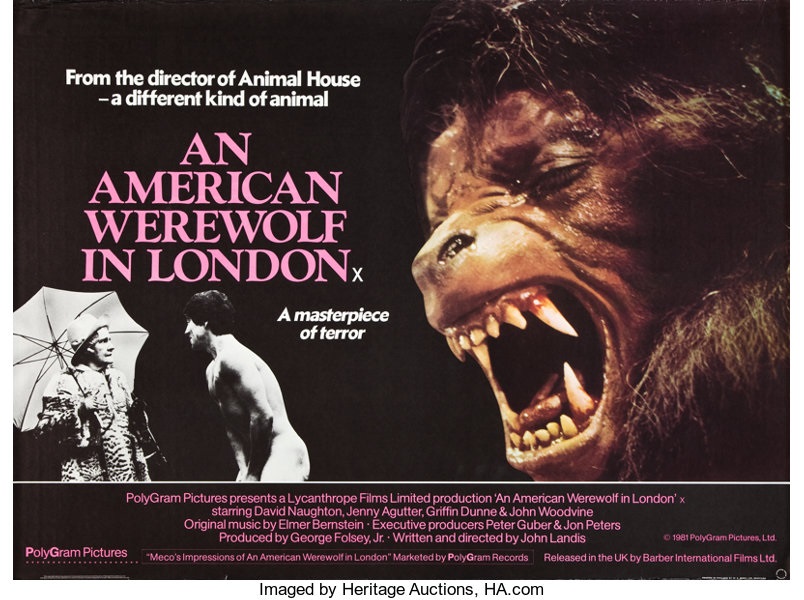 Sunday 13 October 2019 (Full moon)
7.00pm – 22.00pm
York Explore, Library Square, York, YO1 7DS
Suitable for 18+ only, Licensed bar (cash only)
Ticket price: £12.50 or £10 (York card) to purchase tickets https://exploreyork.eventbrite.co.uk/
After the sell-out success of last Halloween's immersive screening of Bride of Frankenstein, Explore York have teamed up with Arrow Films, local author and lycanthropy expert Gavin Baddeley, CinemaArts Ltd and publisher FAB Press, for York's full moon premiere screening of the new remaster of the vintage comedy-horror classic AN AMERICAN WEREWOLF IN LONDON.
An American Werewolf in London had audiences howling with laughter and recoiling in terror upon its 1981 cinema release. Landis' film has gone on to be recognised as one of the most important horror films of all time, acclaimed for its masterful set-pieces, sly wit, uniquely unsettling atmosphere and Rick Bakers' truly ground-breaking, Oscar-winning special makeup effects.
Our host for the evening will be York writer and horror historian Gavin Baddeley, marking the release of his new book The FrightFest Guide to Werewolf Movies. Gavin will be introducing our special screening, and revealing a few spooky secrets about the production of the film. Widely regarded as the greatest werewolf movie ever made, some of its key scenes take place on the Yorkshire Moors and the uncharacteristically unfriendly Yorkshire pub, the Slaughtered Lamb. It's a full moon, so expect a few other chilling surprises. Gavin will also be on hand afterwards to sell and sign copies of his book.
Thanks to Arrow films for the HD/1080p release, based on a new 4K restoration of the original camera negative supervised by director John Landis. This is not available to the public until 28 October. So join us in celebrating Halloween early with an extra special full moon screening of the 1981 comedy-horror classic.